Volunteer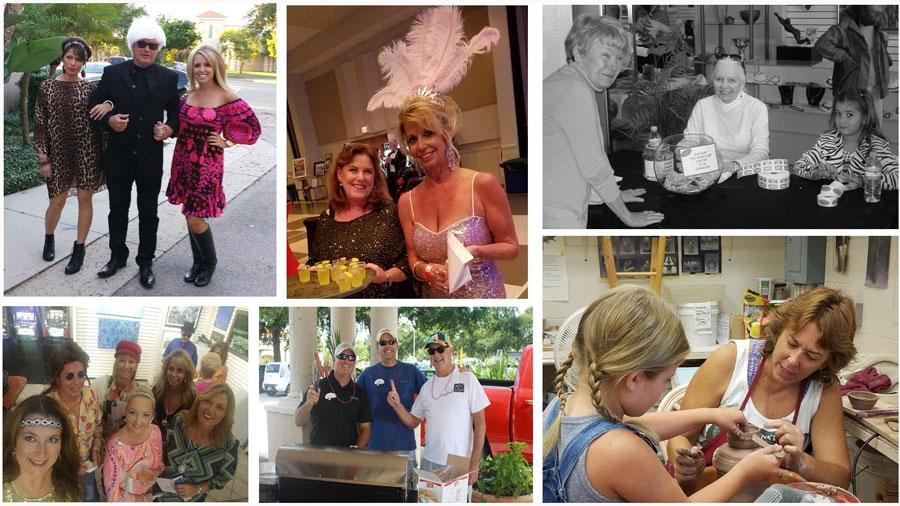 Snowflakes melt alone – but together they can be traffic stoppers! Teamwork allows common people to attain uncommon results. Some people want it to happen; some wish it to happen, others make it happen. Volunteers aren't paid, not because they are worthless, but because they are priceless" — Anonymous
Join Our Team
Volunteers are an important part of the Venice Art Center. We have opportunities to suit your interests, skills, and schedules. Our volunteers make new friends, laugh a lot, learn about the visual arts and make a difference in our creative community.
For more information, contact 941-485-7136 and speak with Carol Anne our Volunteer Coordinator . . .
or download and fill out a Volunteer Application
or fill one at the front desk for an interview.
---
Exhibition Opening Receptions:
Our opening receptions for juried exhibitions are usually held monthly on Friday evenings from approximately 5-7pm. Meet and greet our guests, serve hors-d'oeuvres and beverages, and assist the front-desk staff.
Fundraising events:
Lectures, concerts, Annual Fine Arts Show & Sale, Family Fun Day, Bling Thing Jewelry Show, and special fundraisers are unique events and need volunteers to be part of the excitement. Greet guests, set up and clean up, serve food and beverages and more. Summer Kids' Camp: During the summer we offer a variety of classes for children ages 6 and up. Our Summer Camp instructors need and appreciate classroom volunteers who assist with set up, instruction, and special projects.
Committees:
Committees of volunteers support our exhibitions, fundraising efforts, grant writing, and special projects. For example, one committee receives the entries for our juried shows. Committee volunteers are needed approximately every other month.
Front Desk:
Volunteers help us at the front desk by greeting visitors, answering questions and providing information about our events, classes, programs, and memberships.
Get involved!
Answer phones, sell items from our sales gallery, and process class registrations and membership applications.
Volunteers at the front desk need to be comfortable using PC applications and will be trained on our QuickBooks Point of Sale online system. Front Desk volunteers usually work one four-hour shift per week. Snowbirds are always welcome when in the area.
Sales Gallery/Gift Shop:
Volunteers are an important part of our Sales Gallery. They receive, label, and display items in the gift shop. They usually work one four-hour shift per week.
Handyperson/Maintenance:
We always need helpers for grounds work, event set-up and break-down, small projects, etc.