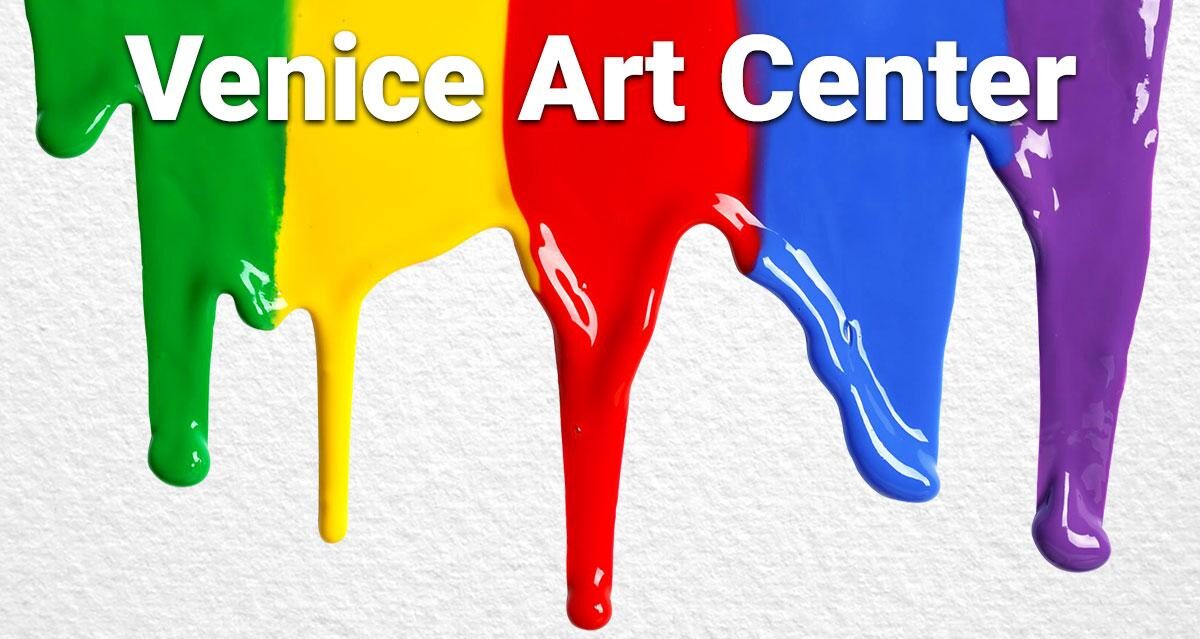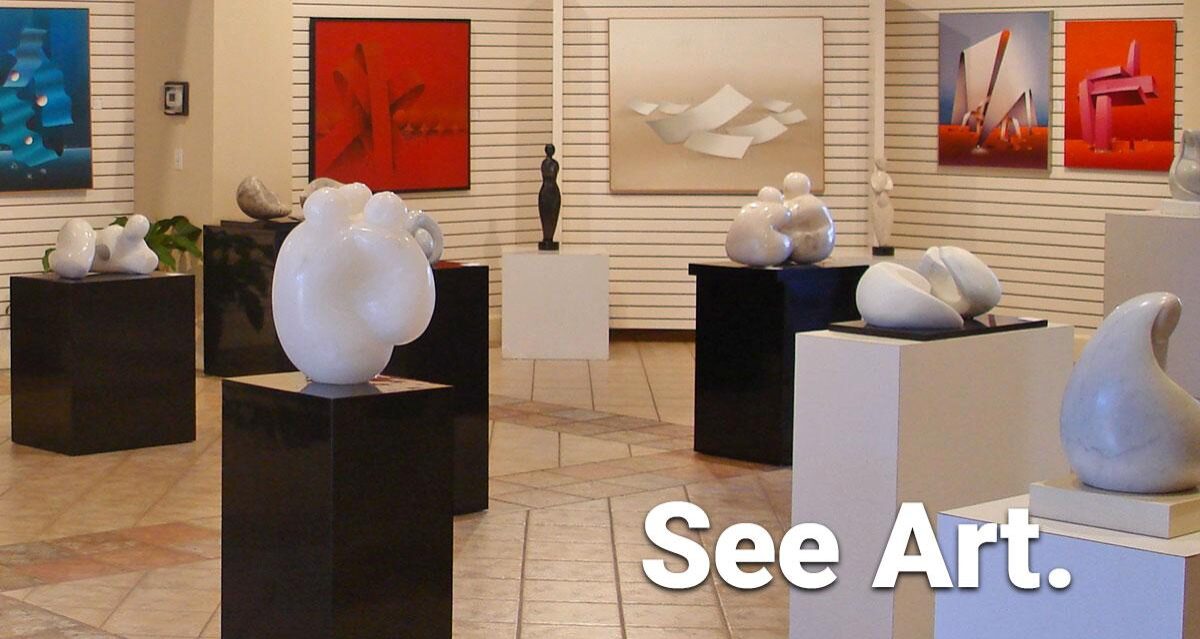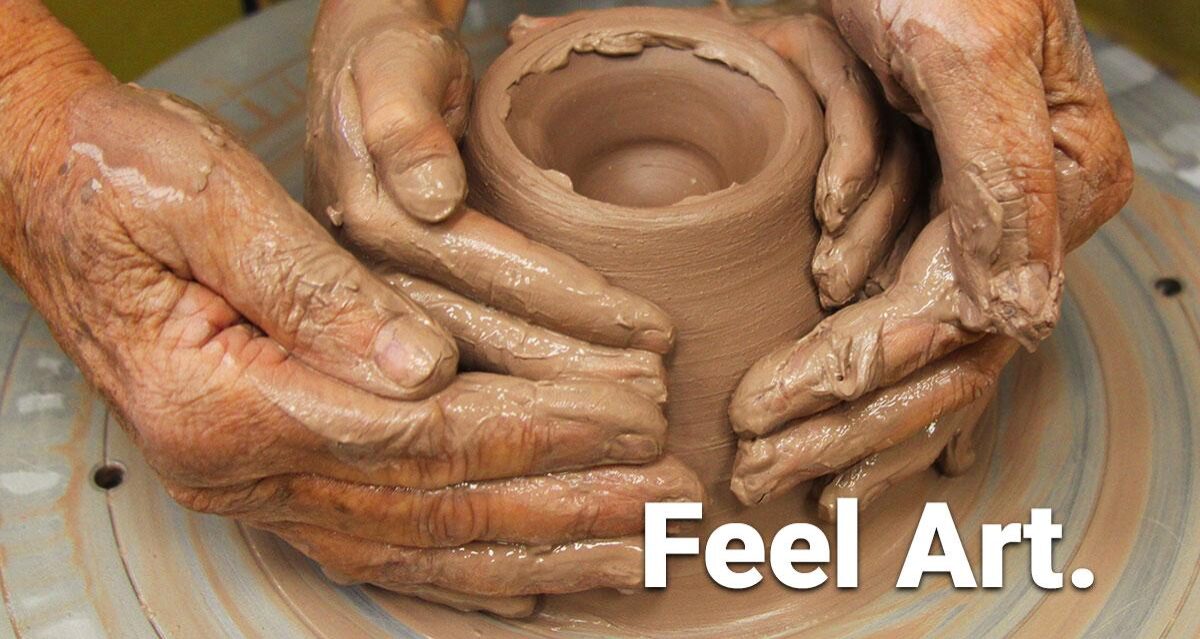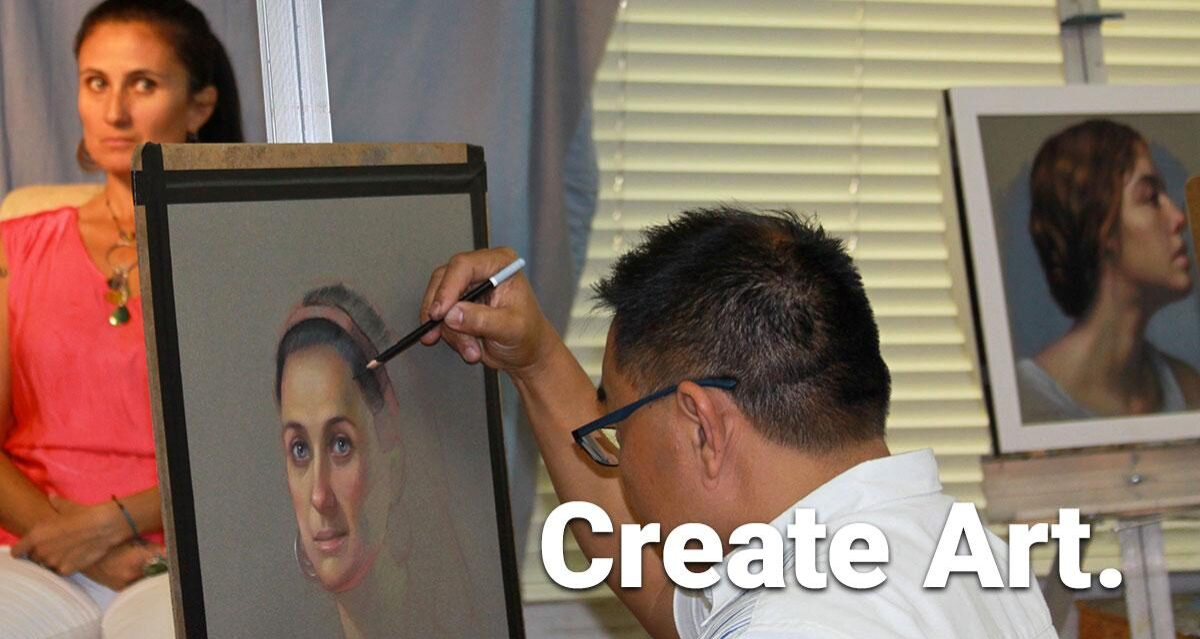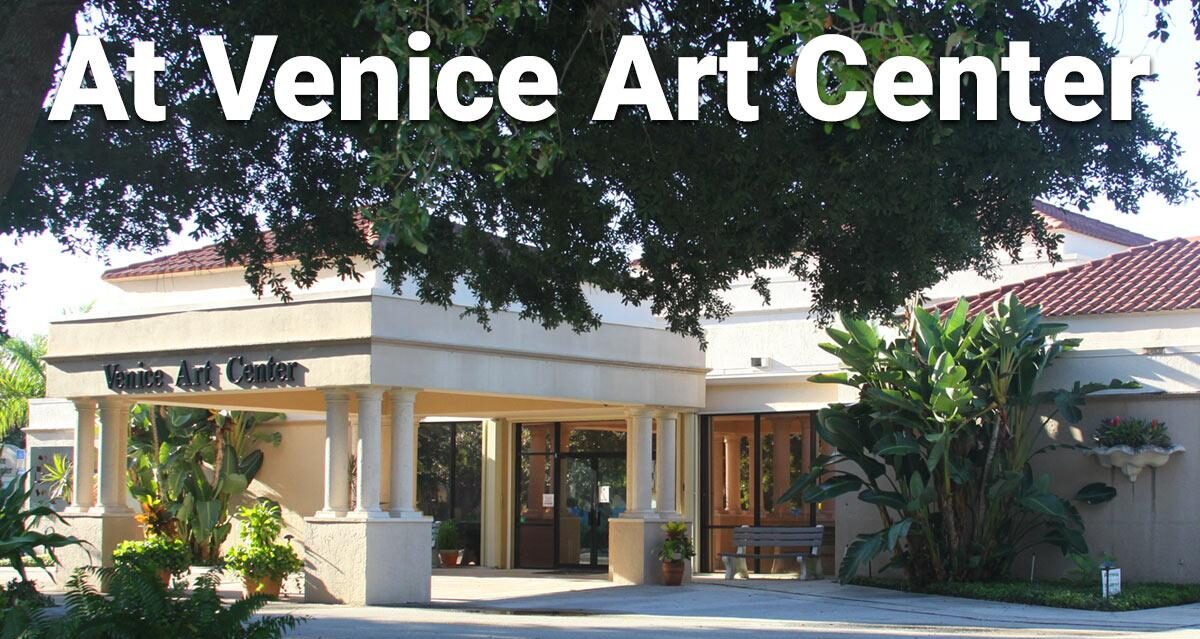 VAC Hours:
Monday-Friday: 9:00 AM – 4:00 PM | Saturday: 9:00 AM – 1:00 PM | Closed Sunday

In observance of Thanksgiving, the Venice Art Center will be closed:
Thursday, November 23 through Saturday, November 25, re-opening Monday, November 27. 
Art Caffe: Monday – Friday 11:00 AM – 3:00 PM
The Venice Art Center offers over 500 classes to adult and children's classes annually, 12 unique visual art exhibitions which are free and open to the public, a one-of-a-kind artisan gift shop, a venue for special events and concerts, art library and an on-site café. We support local artists by offering them many opportunities to express their creativity, sell their work and give them the platform to teach others. For over 65 years we have been an active advocate in the promotion of the arts in the community through citywide public arts projects, outreach, and collaboration with other organizations. VAC has focused on creating events and projects that enhance the community, support other nonprofits and make Venice a cultural destination. Our goal is to make art accessible and available to our community and to enhance the quality of the lives of those living in our area.
The Mission of the Venice Art Center is to provide cultural resources to the community and to enhance the knowledge and appreciation of all forms of visual arts.
Offering Classes at Venice Art Center!
Tap into your own creative skills by taking an art class at VAC. You will be delighted to know that we have skilled, outstanding instructors willing to share their talents with you. Areas of study include drawing, painting, jewelry making, pottery, sculpture and so much more. Sign up today by clicking on the link below or Call 941•485•7136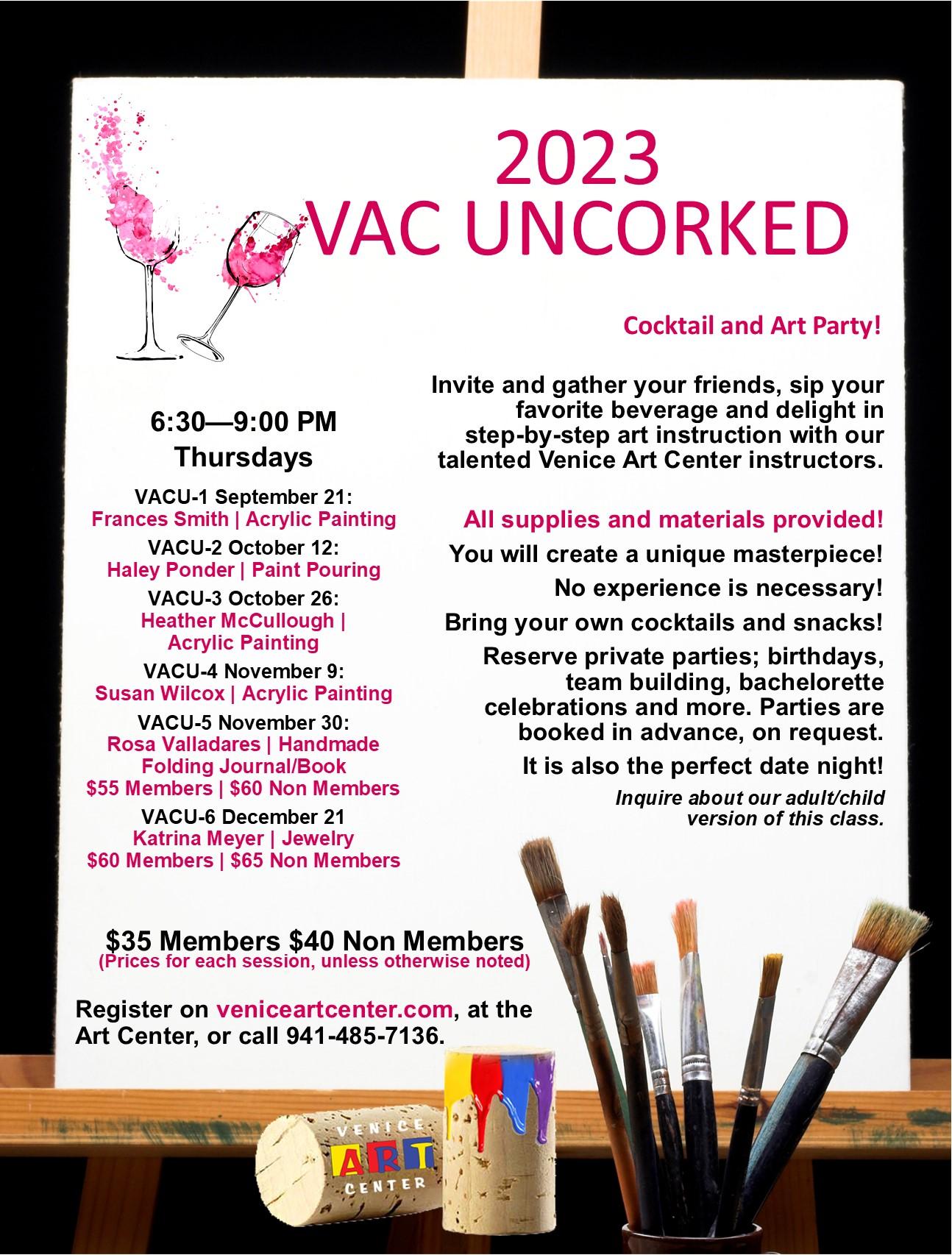 VAC Uncorked 2023
Invite and gather your friends, sip your favorite beverage and delight in step-by-step art instruction with our talented Venice Art Center instructors.
You will create a unique masterpiece!
No experience is necessary!
Bring your own cocktails and snacks!
Reserve private parties; birthdays, team building, bachelorette celebrations and more. Parties are booked in advance, on request.
It is also the perfect date night!
Inquire about our adult/child version of this class.
Food and beverages need to be shared only with your private group.  Click the link below or call 941-485-7136 to sign up for class.
Specialty Workshops 2022-2023
Please join us this season for VAC's specialty Workshops! We are pleased to announce that we have the following Dynamic instructors teaching workshops during the 2022-23 season: Karen Hitt, Leoma Lovegrove, Hodges Soileau and Karen Weihs. We are so grateful that they are sharing their talents! Click the link below or call 941-485-7136 to sign up for class.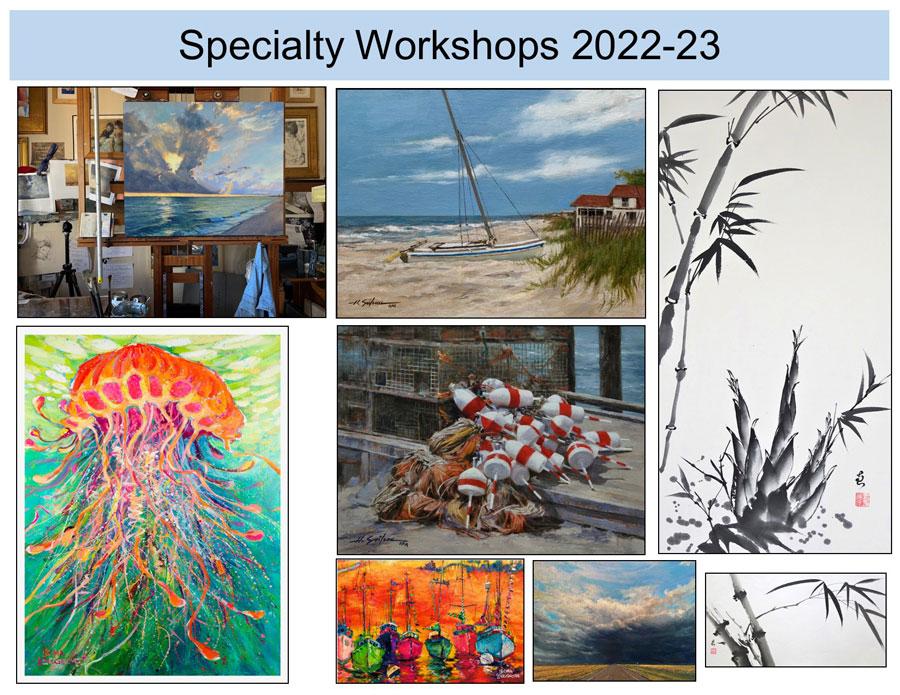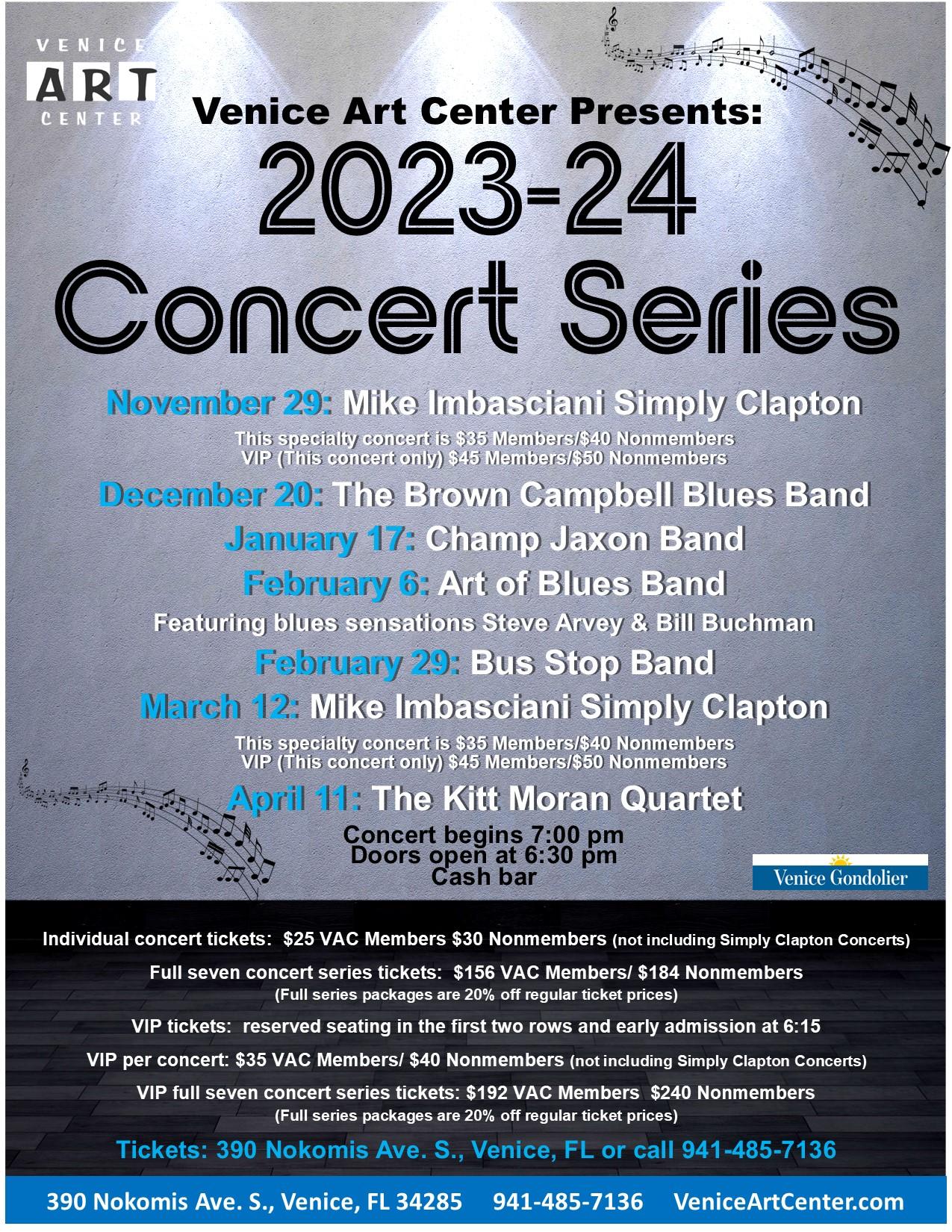 2023-24 Concert Series
Join us for some great musical talent!
Please call for tickets: 941-485-7136
Venice Art Walk!
Enjoy 10 Venice Galleries & Local Artists!