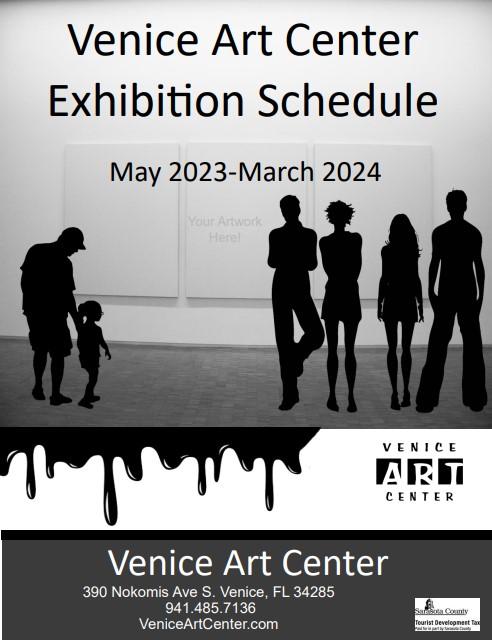 Fine Arts Show 2024 
Please mail or email Application to: Marla or Carol Anne at Venice Art Center
marla@veniceartcenter.com
carolanne@veniceartcenter.com
In-House Galleries
Pat Buster Gallery
Every month the Pat Buster Gallery welcomes a new and innovative show with free admission to view the art. Venice Art Center strives to have cutting edge shows in a variety of themes featuring the best local artists.
---
Altman-Vogt Gallery
The Altman or Vogt side galleries are offered to artist to display their works throughout the year. With exhibitions changing each month, the Venice Art Center draws over 48,000 of visitors annually.  Click Here for Artist Information & Forms.
---
Sales Gallery/Gift Shop
Our Gift Shop features the work of more than 100 professional local artists and displays a wide variety of styles and media from jewelry, ceramics, paintings and much more! Open during normal Venice Art Center hours.
GIFT SHOP APPLICATION
CONSIGNER GUIDELINES
---
If you would like to apply to exhibit your work in our Salon galleries (Pat Buster or Altman-Vogt), or our Sales Gallery, Click Here for Artist Information & Forms.
---
Satellite Galleries
---
Inn at the Beach
725 W Venice Ave., Venice, FL  34285
Grace Methodist Church
400 Field Ave,Venice, FL 34285
Jacaranda Trace
3600 William Penn Way, Venice, FL 34292